Candi's Chutney was born out of a passion to firstly change people's perception of what a Chutney is and secondly to promote the amazing wealth of produce available in East Anglia and the British Isles. So, in September 2012 we registered Candi's Chutney and it has taken us all on a journey of discovery.
Right from the beginning I was trained by the best cooks my nan and my mum, they installed in me a good working knowledge and from this it led me into Norwich City Hotel School and a career as a professional Chef, working in many different genres to hone a vast understanding of food.
We are very much a family run business from my husband, known by many as Mr Chutney to our sons Aidan (Technical Director), Finley (Sales Director) along with great support in so many other areas from our awesome extended family, with their help we have created a multi award winning brand known for quality and consistency. This was confirmed, even to me, in 2017 when we were awarded 'Pride of Norfolk' in the Norfolk Food and Drink Awards. Most definitely a bucket list moment!
I started the business from my little 7 foot kitchen at home, with no foresight as to where this was going to go, we were lucky to get a place at a local Farmers Market at Blakeney in North Norfolk, this was possibly one of the most stressful times, to actually see people try your food in front of you, as a chef this isn't something you ever experience, but the feedback was so great, still waiting for the negative, that didn't come. But an invitation to the North Norfolk Food and Drink Festival did! This is an amazing 2 day event held in the grounds of the beautiful Holkham Hall, so we rocked up and sold out in the 1st day! Again, the feedback was awesome, leading to stockists asking for our Chutney, Candi's was going to a proper business.
We entered the Great Taste Awards in 2013 and entered our original Parsnip & Chilli Chutney, this is a recipe I have been making for many years to complement game terrines and suchlike that I used to create as a Chef and we only went and got 2 stars! For a new business this was an amazing achievement and from there we have gone from strength to strength, winning awards and gaining fantastic friends along the way.
I pride myself on being committed to promoting Great British Produce in all my Chutney recipes, all the produce I use to handcraft my Chutney is always fresh and never frozen, this enables me to ensure the quality of the produce used. Alongside our Store Cupboard range of Chutney which we aim to have available all year, we also have a seasonal 'limited edition' range from our unique Spring and early Summer flavours of Norfolk Asparagus Chutney, Cuecumber & Norfolk Gin Relish and Smokey Tomato & Chilli Chutney to our Autumnal Norfolk Runner Chutney, Spiced Butternut Squash Chutney to our Christmas Mulled Pear & Norfolk Perry Chutney.
In September 2019 we launched our Steak Sauce range, these are based on a Edwardian recipe which I researched into, then to put my twist onto it I created a Chilli Steak Sauce and a Smokey Steak Sauce to complement the Classic Steak Sauce recipe. Our Chilli Steak Sauce received a great review from The Times giving us 3 out of 5 stars, saying 'it was different, but it works!'
From the word go I knew I wanted to create products that would be known for quality and consistency alongside a little bit of madness thrown in from me, I honestly believe this is what makes Candi's Cupboard stand out in the marketplace and with the support from my family, friends, and other great Norfolk producers we'll keep on doing what we do!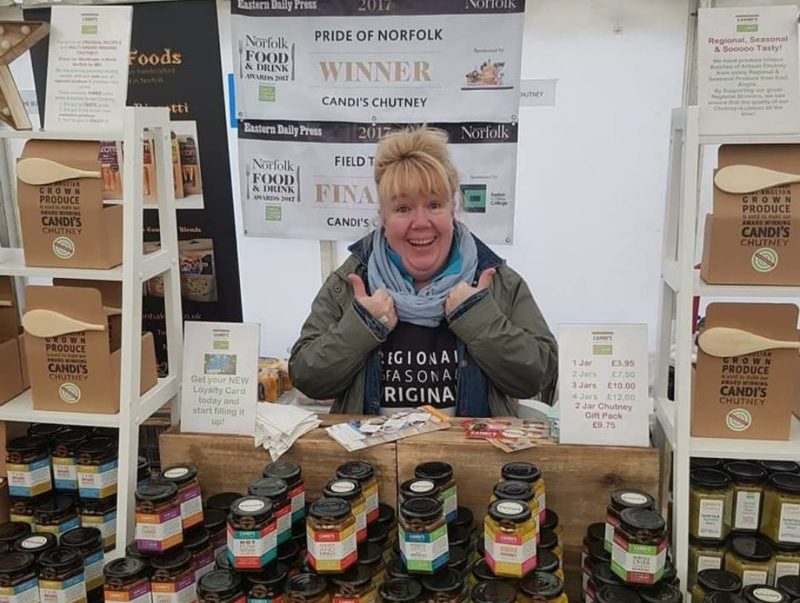 "On holiday Christmas, (wet & windy). The high point just had to be the 3 jars of specialness I bought at Fakenham Farmers Market. These are the best chutneys I have ever eaten. Full Stop."
Chris Barson
"It is not too sweet, very nice!"
Commenting after tasting our Parsnip & Chilli Chutney.
Jean-Christophe Novelli
"Candi's Chutneys have gone down very well in the Wright household - the Parsnip and Chilli Chutney has been snaffled this evening and got a big thumbs up from us!"
Anna Wright and Family
"In this day and age, it's hard to find something really original and the carrot chutney is certainly that. Candi's Chutney was recommended to me by a friend, and now I know why. Looking forward to trying the parsnip"
Grant Warren
"The Parsnip and Chilli Chutney is the best I have ever tasted"
Jackie Brookes
"I bought your Radish and Onion Chutney. Wow! I woke up at 6 and made an excuse to have Cheese and your chutney."
Paul Norton