ONLY THE VERY BEST PRODUCE IS USED TO MAKE OUR PRODUCTS
UPCOMING EVENTS
We attend regular farmers markets and local events. Check out our calendar, and come down and see us!
CANDI'S CHUTNEY
Using regional seasonal veg, and being handmade in the heart of Norfolk, is what helps to make our recipes so special.
CANDI'S STEAK SAUCE
Three unique and "very saucy" flavours hand crafted in the Candi's Cupboard kitchen. Made for you to enjoy!
CANDI'S RELISH
A return to classic retro favourites with three "Weirdly Wonderful Flavours". Hand crafted in the heart of Norfolk.
CANDI'S CLUB
So many ways to get "chutneyfied" – sign up for a Chutney Club Subscription, join us for a Make and Bake Day or Supper Club Tasting Menu event, and find out more about our Candi's Loyalty Card scheme and discounts.
NEW RECIPES TO MAKE YOUR MOUTH WATER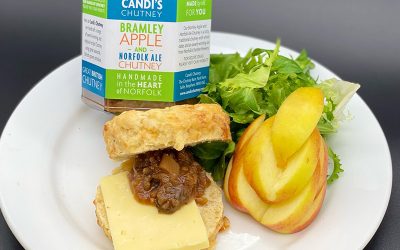 Ingredients:350g self-raising flour1 tsp bicarbonate of soda85g butter, diced200g mature cheddar, grated284ml buttermilk6 tsp Bramley Apple & Norfolk Ale Chutney Method:Heat oven 200c. Dust a large baking sheet with a little flour. Tip the flour into a bowl and...
"On holiday Christmas, (wet & windy). The high point just had to be the 3 jars of specialness I bought at Fakenham Farmers Market. These are the best chutneys I have ever eaten. Full Stop."
Chris Barson
"It is not too sweet, very nice!"
Commenting after tasting our Parsnip & Chilli Chutney.
Jean-Christophe Novelli
"Candi's Chutneys have gone down very well in the Wright household - the Parsnip and Chilli Chutney has been snaffled this evening and got a big thumbs up from us!"
Anna Wright and Family
"In this day and age, it's hard to find something really original and the carrot chutney is certainly that. Candi's Chutney was recommended to me by a friend, and now I know why. Looking forward to trying the parsnip"
Grant Warren
"The Parsnip and Chilli Chutney is the best I have ever tasted"
Jackie Brookes
"I bought your Radish and Onion Chutney. Wow! I woke up at 6 and made an excuse to have Cheese and your chutney."
Paul Norton